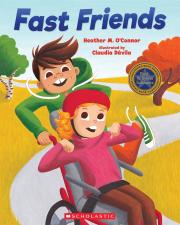 Fast Friends
by Heather M. O'Connor, illustrated by Claudia Dávila
ISBN 9781443170406 Paperback
32 Pages | Ages 3 to 7
See an excerpt

Every child has a voice — if we take the time to listen.
In this appealing, energetic picture book, two kids with different challenges and strengths find they are just what the other needs to navigate classroom life.
Tyson does everything fast — so fast he often disrupts the class. His teacher is always saying, "Too fast, Tyson!" And often he ends up playing all alone.
Suze, the new girl, is nonverbal with special needs. Sometimes her classmates don't know what those needs are.
But Tyson understands. Taking the time to interpret her cues, Tyson forms a special friendship with Suze, and teaches his classmates what it means to listen and understand others.
Claudia Dávila's bright, energetic art captures the joy of moving at your own speed and connecting with a friend who can ride alongside.
Excerpt: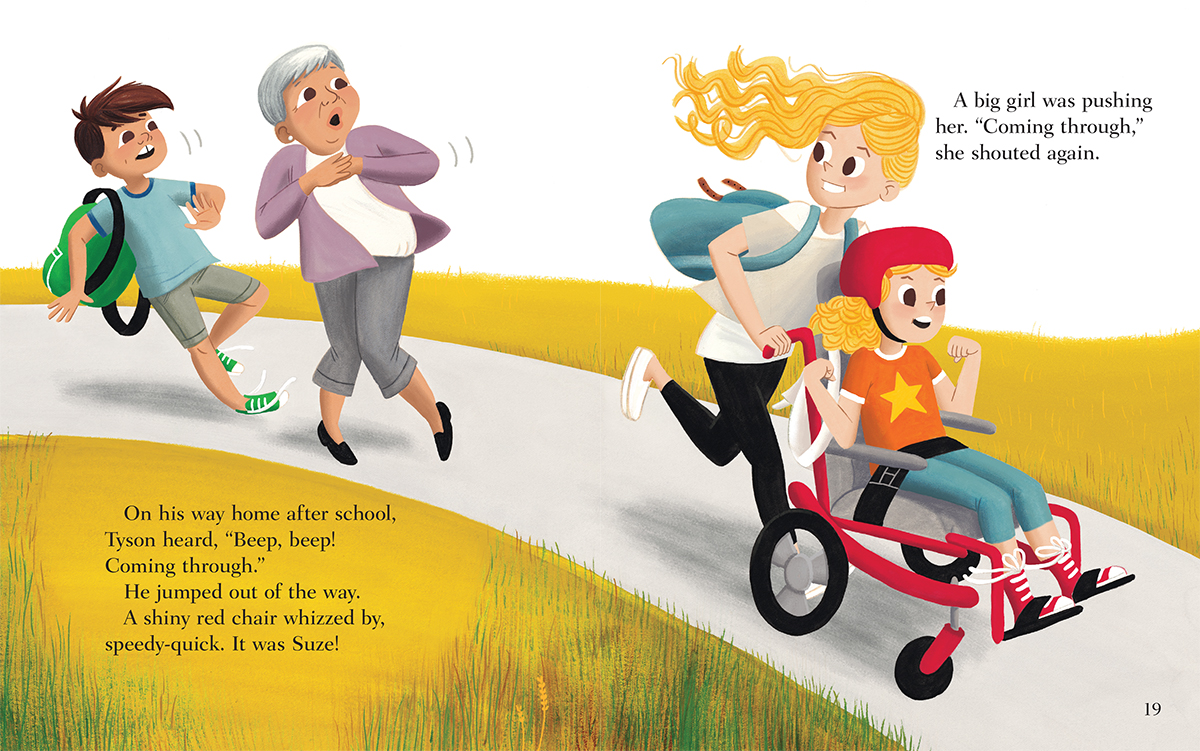 Praise for Betting Game:
"A very compelling story with interesting characters that kept this reader wanting to read more. O'Connor deals with topics that would be well worth discussing with almost any teen: the value of team-work; honesty; and ethics. I will certainly include Betting Game in our curriculum resource collection and would recommend it for other school libraries as well. Highly Recommended." — CM: Canadian Review of Materials
Praise for Betting Game:
"O'Connor will keep the game's fans close with plenty of in-the-know soccer patter, but she will also draw other readers with the story of Jack's slow absorption into a gambling ring." — Kirkus Reviews
Praise for Super Red Riding Hood:
"This is a simple but charming twist on a classic tale, with a strong lead character and a happily ever after ending well-suited for a modern audience." — CM: Canadian Review of Materials
Praise for Child Soldier:
"Graphic in format but not detail ...The visual element gives this memoir particular immediacy for audiences who "don't understand what is happening right now, to kids just like them." — Kirkus Reviews
Awards
Short-listed, OLA Blue Spruce Award, 2021
Short-listed, IODE Jean Throop Award, 2021
Short-listed, Shining Willow Award (Saskatchewan Young Readers' Choice), 2021
Commended, Best Books for Kids and Teens, Canadian Children's Book Centre, 2020
Commended, Toronto Public Library First & Best Booklist, 2020
Commended, OLA Best Bets, 2020
Extras
Rights Sold
French (N. Amer) - Éditions Scholastic
Selling Points
A story featuring a child with special needs thriving in a regular classroom setting.
A highly readable and energetic story that children, especially those that are in constant motion, will relate to and enjoy.