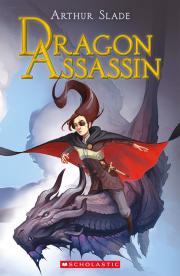 Dragon Assassin
by Arthur Slade
ISBN 9781443175517 Paperback
ISBN 9781443182225 Ebook
360 Pages | 5.403" x 8.263" | Ages 10 to 14
See an excerpt

Carmen wants to graduate. But the emperor wants her dead. Her classmates might, too. At least she has a dragon on her side.
Carmen is desperate to finish ahead of her twin brother and the rest of the class at the Red Adept Assassin School. In her quest, she discovers a dragon, Brax. All she has to do is get on his back.
One problem: he's killed everyone who gets near him.
Then the emperor declares war on assassins and graduation night becomes the fight of her life. Now Carmen has three things on her mind: survival, revenge and figuring out how to deal with Brax. Because the emperor and his forces are hunting down her fellow assassins one by one, and she's going to need all the help she can get.
Awards
Commended, Best Books for Kids and Teens, Canadian Children's Book Centre, Starred Selection, 2021
Short-listed, OLA Red Maple Award, Fiction, 2021
Extras
Rights Sold
Selling Points
Fast-paced, thrilling fantasy.
Arthur Slade is a bestselling and multi-award-winning author.
Dragons and magical school stories are always popular.
This is a dragon character like no other.