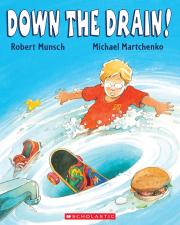 Down the Drain!
by Robert Munsch, illustrated by Michael Martchenko
ISBN 9780545986007 Paperback
32 Pages | 8.02" x 10" | Ages 3 to 8
See an excerpt

Robert Munsch's hilarious take on bathtime is a long overdue tribute to the kids who dread taking themand the poor parents who dread giving them!
Adam is covered in dirt. His hands are dirty. His face is dirty. And his feet are dirty.
"Adam, you need a bath!" his father yells.
But Adam doesn't like baths. All that soap in his eyes, soap in his ears, and soap in his mouth! He doesn't like them one bit.
So while his little sister, his dog, and his cat are laughing, Adam's father outsmartshim and pops him in the tub.
Little does Dad know that Adam has a few tricks of his own...and once he's in the tub, in control of the tap AND the plug, the mayhem will begin!
Excerpt: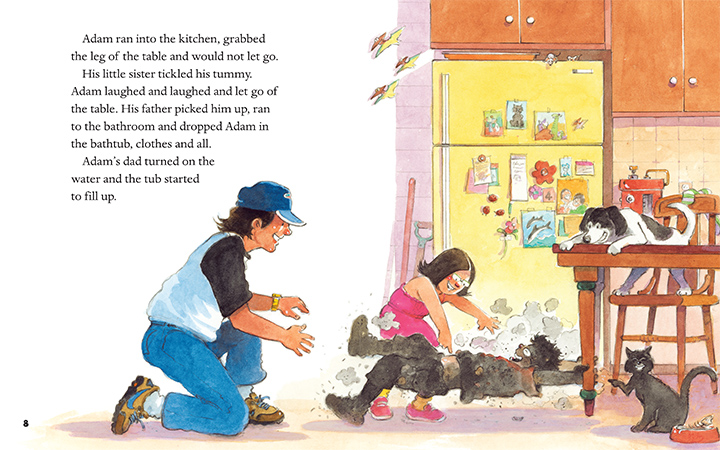 Rights Sold
Chinese Simplified - Beijing Baby-Cube
English (US clubs) - Scholastic Inc.
English (Asia) - Scholastic Asia
Italian - Editrice Il Castoro
Russian - Melik-Pashaev
Selling Points
No kid likes to take a bath... and who hasn't been afraid of being sucked down the drain?
Munsch and Martchenko are Canada's best-selling author/illustrator team. Their collaboration makes every book special.