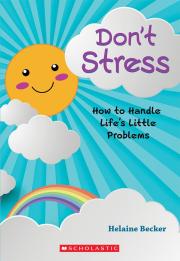 Don't Stress: How to Handle Life's Little Problems
ISBN 9781443148429 Paperback
96 Pages | 5.29" x 7.63" | Ages 8 to 12
See an excerpt

Tale a deep breath. Exhale slowly. Ahhh. . . Doesn't that feel good?
Everyone feels stressed at least once in a while. There are so many things to do for school and at home, it's hard to fit it all in. And sometimes things with family and friends can get a little. . . well. . . stressful.
Flip through the pages the pages of this book to find some easy ways to manage stress that really work! From taking a stretch break to playing a sport to being mindful, there are loads of things you can do everyday to help you cope with life's little problems.
Extras
Rights Sold
English (Asia) - Scholastic Asia
English (India) - Scholastic India
English (US clubs) - Scholastic Inc.
French (N. Amer.) - Éditions Scholastic
Hungarian -Mano Lira
Indonesian - Gramedia
Turkish - Nemesis
Selling Points
A light-hearted approach to dealing with stress.
From an award-winning author with a strong track record of interesting, relatable non-fiction.
Children deal with higher levels of stress today than ever before — this book is a tool to help.