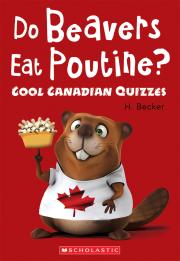 Do Beavers Eat Poutine?
by H Becker
ISBN 9781443157629 Paperback
96 Pages | 5.26" x 7.6" | Ages 8 to 13
See an excerpt

How well do you know Canada?
Are you an expert on all things Canuck, or do you need to brush up on your basics?
Test your knowledge and find out:
In what province will you find the largest snake dens in the World?
Where in Canada will you find a UFO landing pad?
How many official languages are spoken in Canada — by Canada geese?
In this 100-percent-True-North-strong-and-free quiz-opedia, you'll find out how you rate when it comes to Canadian trivia. You'll also find dozens of facts, jokes and puzzles that celebrate the splendour of our nation — in totally cool Canadian style, of course.
Extras
Rights Sold