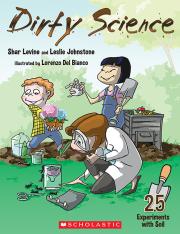 Dirty Science: 25 Experiments with Soil
by Shar Levine, Leslie Johnstone, illustrated by Lorenzo Del Bianco
ISBN 9781443113540 Paperback
48 Pages | 8.42" x 10.9" | Ages 7 to 11
See an excerpt

Go on . . . get dirty!
Think that the dirt beneath your feet is boring? Wrong! There's more to dirt than, well, dirt. In fact, don't call it dirt to a scientist - it's soil! Soil can tell you a lot about where you live and what's going on behind, or beneath, the scenes. Learn how to make a Berlese funnel that brings out tiny unseen bugs in soil; learn the differences between various soils; even change a blue hydrangea to a pink one! Is it magic? Nope . . . it's science!
With the fun, easy experiments and lively illustrations that readers have come to expect from the team behind Scary Science: 25 Creepy Experiments and Snowy Science: 25 Cool Experiments, budding scientists will discover all the fun things you can do with dirt, all while learning about the ground beneath their feet!
Excerpt: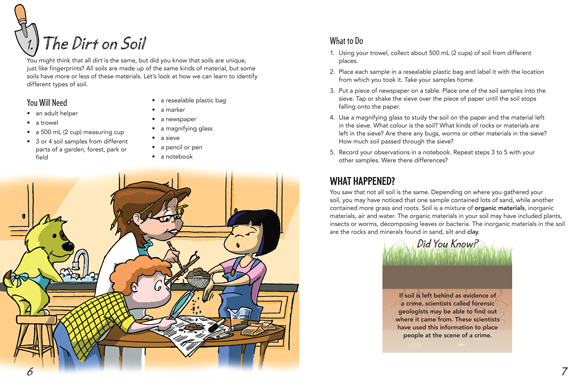 Praise for Scary Science: 25 Creepy Experiments:
"[A] perfect example of how a love of reading can be fostered with non-fiction materials." -Resource Links
"'Dynamic duo' is a an expression that has commonly been associated with Batman and Robin, but, in the science literature for children and adolescents, it could just as well describe Shar Levine and Leslie Johnstone who are the co-authors of more than 55 creative and engaging books promoting science." -CM Magazine
"It also helps girls and boys to see that science can be interesting, and that scientific experiments can answer questions and be exciting too." -CM: Canadian Review of Materials
Awards
Winner, Canadian Science Writers' Association, Outstanding Youth Book, 2014
Commended, Canadian Children's Book Centre, Our Choice, 2014
Commended, Resource Links, Best of the Year, 2013
Rights Sold
English (Asia) - Scholastic Asia
English (Australia) - Scholastic Australia
English (India) - Scholastic India
English (NZ) - Scholastic New Zealand
French (N. Amer.) - Éditions Scholastic