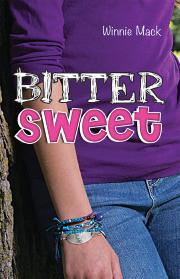 Bittersweet
by Winnie Mack
ISBN 9781443146029 Paperback
ISBN 9781443146036 Ebook
216 Pages | 5.02" x 7.68" | Ages 8 to 12
See an excerpt

When Sam is diagnosed with diabetes, her whole world changes — can she learn to handle it?
Sam is a normal 12-year-old who loves warm brownies, sleepovers with her best friend Emily and soccer. But when she nearly passes out during a game, her mom takes her to Emergency and Sam is diagnosed with diabetes Suddenly, shockingly, nothing will ever be normal, again.
Learning to deal with diabetes is a challenge in itself, but Sam isn't prepared for how everything else is changing, too. Her big brother is completely ignoring her, she's fighting with Emily, her soccer friends are acting weird, and she might never play again, much less be named captain.
How can Sam figure out her new normal when all she wants is her old life back?
This poignant story of a young girl coming to terms with a serious diagnosis, is a hopeful tale about overcoming life's hurdles.
Praise for After All, You're Callie Boone:
"Callie's process of self-discovery os realistic and appealing, as are the story's themes about the importance and rewards of compassion and support." -Booklist
Awards
Short-listed, Diamond Willow Award (Saskatchewan Young Readers' Choice), 2017
Commended, Resource Links, Best of the Year, 2016
Rights Sold
Finnish - Stabenfeldt
French (N. Amer.) - Éditions Scholastic
Norwegian - Stabenfeldt
Swedish - Stabenfeldt
Selling Points
Diabetes is a disease of great interest to young readers, since it typically strikes kids their own age.
Soccer is the most-played sport among Canadian youth and in many other countries around the world.
Winnie Mack has a great middle-grade voice.