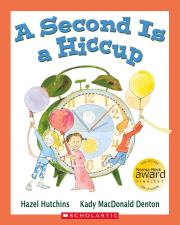 A Second Is a Hiccup
by Hazel Hutchins, illustrated by Kady MacDonald Denton
ISBN 9780439946100 Paperback
32 Pages | 8.04" x 9.99" | Ages 4 to 8
See an excerpt

This lyrical poem that plays out the joys of childhood in seconds, hours, weeks and years is a wonderful choice for bedtime, playtime or anytime! Happy thoughts on ever-longer periods of time spiral out in easy rhymes, as illustrations full of colour, light and energy reflect the perfection of childhood days. A charming picture book that introduces children to the concept of time and encourages them to look at their world differently.
Excerpt: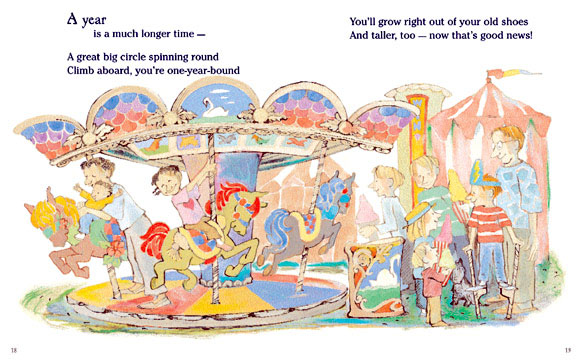 Awards
Commended, Booklist Editors' Choices, 2007
Short-listed, Norma Fleck Award for Canadian Children's Non-Fiction, 2005
Commended, Canadian Children's Book Centre, Our Choice, 2005
Rights Sold
Arabic - Dar El Ilm Lilmalayian
English (Korea) - Woongjin Thinkbig Book Club
English (US) - Scholastic Inc.
English (World Education) - McGraw Hill
French (N. Amer.) - Éditions Scholastic
Italian - Editrice Il Castoro
Japanese -Fukuinkan Shoten
Korean - Book Bank Publishing
Portuguese - Editora Bizâncio
Selling Points
An appealing picture book through which both young and old can share the delights of childhood.
Award-winning illustrator!
Curriculum applications in the areas of Science and Technology, Math and Language Arts.