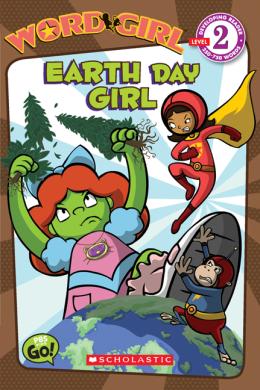 WordGirl Reader: Earth Day Girl: Level 2
Scholastic Inc | ISBN 9780545197250 Paperback
32 Pages | 6" x 9" | Ages 4 to 8

The adorable, but super-evil Birthday Girl has gone too far this time when she tries to take over the City's Earth Day celebration. As everyone else learns about the importance of the three R's—Reduce, Reuse, Recycle—Birthday Girl cannot let the Earth hog all the attention. She rampages through the Earth Day fair, pulling up trees, smashing hedges, and even throwing a dumpster into the lake! After an epic battle, WordGirl finally convinces Birthday Girl that if she doesn't take care of the planet, she may never have another birthday party again!

A hilarious tale that highlights the value of celebrating Earth Day everyday.