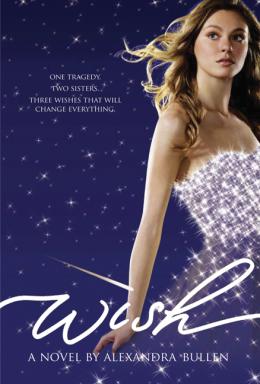 Wish
Scholastic Inc | ISBN 9780545139069 Paperback
336 Pages | 5.25" x 8.04" | Ages 14 & Up
Scholastic Inc | ISBN 9780545139052 Hardcover
336 Pages | 5.7" x 8.5" | Ages 14 to 18
Three wishes. Three dresses.
Nothing can change the fact that Olivia Larsen's twin sister, Violet, is dead... until Olivia is given the chance to make one wisha wish that brings her sister back.
But Violet's return isn't what Olivia expected, and when she's granted two more wishes, things only get more complicated. As love, secrets, and a haunted past collide, Olivia realizes she must be careful what she wishes for... orher life will never be the same.
In a breathtaking debut from Alexandra Bullen, Wish asks the question: If you could have anything, what would you wish for?
Raves & reviews:
Praise for Wish
"This book reminds you that life can be hard and messy but if you have smart, loyal and honest friends in your life, you can get through anything." &mdash Justine magazine
"A touching, enjoyable read that will have readers rooting for Olivia to find her own voice and step into the sun." Kirkus Reviews
"Bullen delivers an enticing first novel... [A] sweet story of siblings determined to remain inseparable." Publishers Weekly
"This first-time novelist has produced an enjoyable variation on the three magical wishes scenario... Olivia works through the wishes to realize her strengths and learn to face the world on her own." School Library Journal