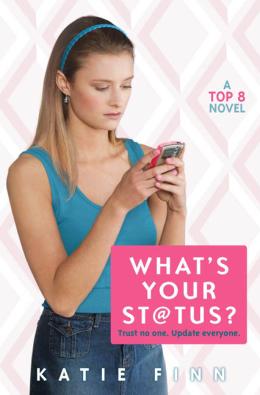 What's Your Status?: A Top 8 Novel
Scholastic Inc | ISBN 9780545211277 Paperback
368 Pages | 5.24" x 8.03" | Ages 12 & Up
Madison MacDonald thinks things are finally working out!
Followers: 300
Satus Updates:
mad_mac Nate and I have been together for two months, and it's wonderful! Life is good!
mad_mac Well, except for the fact that I still might be failing history.
mad_mac And I no longer have a BFF.
mad_mac But aside from those things!
mad_mac Okay. So, um, apparently I've just been put in charge of the school's priceless heirloom.
mad_mac And the assistant headmaster has a vendetta against me.
mad_mac And it seems I'm being blackmailed.
mad_mac Gathering together a crew. I'm going to try and pull off a heist. Without getting caught. Or expelled. Or arrested.
mad_mac Also, I think I may have just accidentally wrecked my relationship.
. . . Madison MacDonald is trying not to panic.
Raves & reviews:
Praise for What's Your Status?: A Top 8 Novel :
"MySpace and Facebook have changed the way American teens communicate...Smartly written and totally accessible, this is a wonderfully fun first novel. The author has her finger on the pulse of teens today and is certain to please many of them." — School Library Journal