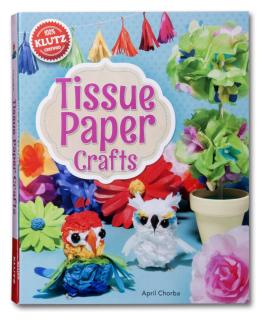 Klutz / Scholastic Canada Ltd.
ISBN: 9780545647779
Ages 8 & Up
Tissue Paper Crafts
Colourful decorations that are totally do-able and totally adorable!
You may think you know tissue paper, a kid-craft staple since practically forever. But add a little Klutz ingenuity and even the most familiar craft supply turns into something spectacular. This is tissue paper like you've never seen before.
In Tissue Paper Crafts, simple directions yield amazing results. Fold here, cut there, fluff it out all over and — voila! — it's a decoration that brings a fresh and modern pop of colour to any space. Puffy pom-poms, funky tassels, tiny trees, wreaths, garlands . . . the range of projects is wonderfully varied. Of course, we include the granddaddy of all tissue paper crafts — flowers, from daisies to daffodils to truly amazing peonies. Most exciting is a brand new addition to the tissue paper scene — fluffy little birds that just may be the cutest craft we've ever hatched.
The book is packed with step-by-step instructions for all the projects, along with essential supplies like glue, string, wire, a sturdy stencil and, of course, a rainbow of beautiful tissue paper. There is even a custom cardstock birdcage with a perch for displaying your handmade bird in style. Finally, tissue paper gets to spread its wings.
Comes with: 100 sheets of tissue paper in ten colours, plastic eyes, glue, floral wire, string, a stencil, a punch-out bird cage
Click here for more