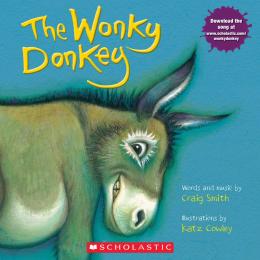 The Wonky Donkey
Scholastic Inc | ISBN 9780545261241 Paperback
24 Pages | 8.95" x 8.99" | Ages 3 to 5

The Wonkey Donkey is based on an awardwinning children's song. With hilarious lyrics and illustrations, this picturebook will appeal to adults and children alike.

In this very funny, cumulative song, each page tells us something new about the donkey until we end up with a spunky, hanky-panky cranky stinky dinky lanky honky-tonky winky wonky donkey, which will have children in fits of laughter.