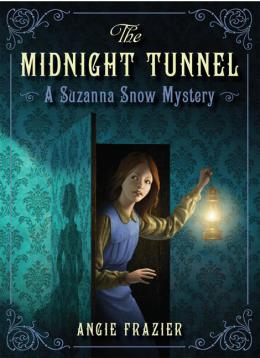 The Midnight Tunnel: A Suzanna Snow Mystery
Scholastic Inc | ISBN 9780545208628 Hardcover
288 Pages | 5.73" x 7.81" | Ages 9 to 12

It is 1905 and young Suzanna works at her family's inn in Loch Harbor, New Brunswick, where she is trained to be a well-mannered hostess and a charming lady. Suzanna has other ideas for her future, however—she wants to be a detective like her famous uncle, Bruce Snow from Boston, who regularly makes headlines in the newspapers for solving hard-to-crack cases. This summer seems typical enough for Suzanna until a young guest goes missing on a stormy summer night. When no clues turn up, Bruce Snow arrives to solve the case. But Suzanna learns that not everything is as it seems. With a little help from her friends, can she solve the mystery of the missing girl before her uncle gives up?

Fast-paced, absorbing, and wonderfully rich, Suzanna Snow and the Mystery of the Midnight Tunnel is sure to keep readers following the clues until the case has been solved.
Raves & reviews:
Praise for The Midnight Tunnel
"This wonderfully atmospheric whodunit is just right for young readers who have made their way through Nancy Drew and The Hardy Boys series but are not quite ready to undertake the grandness of Sherlock Holmes." — The Bulletin of the Center for Children's Books
"What Zanna lacks in grace and composure, she makes up for in pluck, persistence and cleverness, emerging a likely and likable Edwardian Nancy Drew." — Kirkus Reviews
"Mystery lovers will root for Suzanna as she works on solving her first mystery—and they will look forward to more Suzanna Snow mysteries." — Library Media Connection