The Marvelous Book of Magical Horses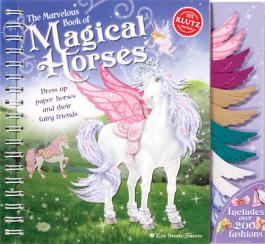 Klutz / Scholastic Canada Ltd.
ISBN: 9781591749264
Ages 6 & Up
The Marvelous Book of Magical Horses
A glittery mare gallops through a fantasy forest. A rainbow-maned unicorn explores a sparkling castle. A winged pegasus soars through the clouds. Who knew paper dolls could be so enchanting?
The Marvelous Book of Magical Horses comes with six gorgeous paper ponies and two paper-doll fairies. Plus, of course, everything you need to dress them up and play to your heart's content: a dozen fabulous wings and more than 250 punch-out saddles, manes, tails, bows, crowns, and other horse and fairy fashions. Four fabulous illustrated backgrounds inspire all sorts of imaginative play.
But this book is more than just glitter and rainbows: The frustration-proof adhesive technology that makes The Fabulous Book of Paper Dolls such a hit is here, too. Simply stick a sticky dot to your horse, add the fashion, and you're ready to go. No tabs! Finally, when you're finished horsing around for the day, a convenient, built-in storage envelope keeps the dolls and accessories in perfect order, happily ever after.
Click here for more