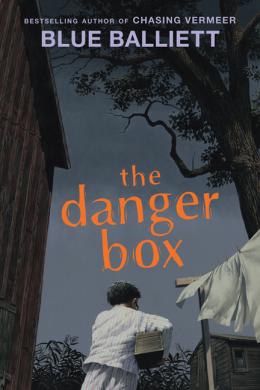 The Danger Box
Scholastic Inc | ISBN 9780439852098 Hardcover
320 Pages | 5.76" x 8.53" | Ages 9 to 12
A sight-impaired boy in a small town.
A mischievous girl who won't stay in one place.
A mysterious notebook belonging to a world-famous scientist.
A fire.
A stranger.
A death.
These are the contents of The Danger Box, a spellbinding new mystery from Blue Balliett. History, mystery, and science all collide as a small boy in a small town becomes part of something much, much bigger than himself.
Raves & reviews:
Praise for The Calder Game
"As she did in Chasing Vermeer and The Wright 3, Balliett builds intriguing, page-turning puzzles that explore art and the nature of friendship." —Seattle Post-Intelligencer
"Fans of Blue Balliett's earlier art-world mysteries—Chasing Vermeer and The Wright 3—will be delighted to know she's back." —Washington Post
"Balliett again offers readers new ways to think." —Booklist, starred review
"Acclaimed for her sophisticated juggling of art concepts, mystery, philosophy and storytelling, Balliett outdoes herself with this ambitious novel... Motivated readers will treasure this provocative title." —Publishers Weekly, starred review>br> "Fans of the author's previous novels are in for a treat in this latest adventure." —School Library Journal, review
"Balliett successfully combines art history, historical locations, suspense and intrigue into an exciting and mind-spinning mystery filled with clues, puzzles, and more twists and turns than the Blenheim Palace maze. This is Balliett at her best." —School Library Journal, featured as SLJ's "Hot Pick."
Extras: