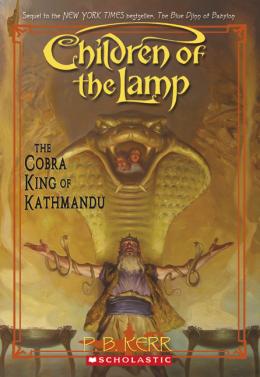 The Cobra King of Kathmandu: Children of the Lamp Book 3
Scholastic Inc | ISBN 9780439670241 Paperback
400 Pages | 5.27" x 7.57" | Ages 9 to 12

Scholastic Inc | ISBN 9780439670234 Hardcover
384 Pages | 6.16" x 9.3" | Ages 9 to 12

Djinn twins John and Philippa Gaunt are back and ready to tackle a brand-new magical mystery. As they travel around the world on a whirlwind adventure, the twins help their friend and fellow djinn, Dybbuck, find out who murdered his best friend, using the venomous snakebite of the king cobra. All too soon, John and Philippa find themselves caught up in the lethal world of the Cult of the Nine Cobras, only to discover that they are a target of the creepy cobra cult. Now, the twins must find the invaluable Cobra King talisman and stop the cult leader's deadly plan!
Raves & reviews:
Praise for the Children of the Lamp series: "Kerr puts an ingenious spin on the enchanted-lamp theme in his first novel for children. . . ." --BOOKLIST "A breakneck-paced, Indiana Jones-style adventure. . . . Kerr keeps the emphasis on fun...." --PUBLISHERS WEEKLY "[T]he humor is just right, the captivating world of the djinn is faultlessly depicted and expanded, and Kerr balances the resolution with enough uncertainties to draw readers back for the next installment. This work is likely to win new fans as well as please those who enjoyed the previous book." --VOICE OF YOUTH ADVOCATES "Kerr brings a wealth of invention and a solid grounding of research into djinn legends to his creation, giving the story and its deftly varied episodes a rich texture. . . . Capable writing and a well-shaped plot will reward fans returning to this series." --THE HORN BOOK