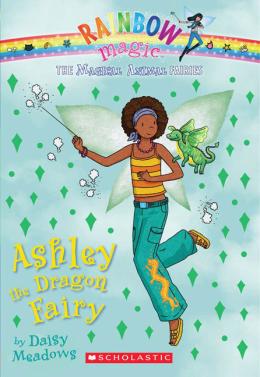 Rainbow Magic: The Magical Animal Fairies #1: Ashley the Dragon Fairy
Scholastic Inc | ISBN 9780545384179 Paperback
80 Pages | 5.27" x 7.56" | Ages 7 to 10
Rachel and Kirsty are off on another exciting adventure-with the Magical Animal Fairies!
Rachel and Kirsty are heading to a weeklong outdoor adventure camp! But another fairy adventure is just around the corner, too. Jack Frost has kidnapped the fairies' seven magical animals! The animals each look after a special kind of magic. Now that they're missing, everything in Fairyland and the human world is a magical mess!
Rachel and Kirsty can't wait to explore some cool caves-but they're surprised to find goblins there! Could the goblins be looking for Ashley the Dragon Fairy's little dragon, Sizzle? And can the girls find Sizzle first?