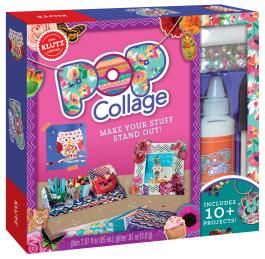 Klutz / Scholastic Canada Ltd.
ISBN: 9780545858632
Ages 8 & Up
Pop Collage: Make Your Stuff Stand Out!
Personalized pizzazz that's as easy as cut and paste.
With the rise of DIY, nothing is cooler than a look that's unmistakably yours. Luckily, when it comes to sprucing up your stuff, Pop Collage has you covered (pun intended).
Learn to tear, cut, hole-punch, and layer the included pretty papers in unexpected ways. It's a no-mistakes, anything goes activity — chaos encouraged. We provide exclusive patterned pop papers and embellishments to decorate a key chain, accessory set, picture frame, and more. Tackle our quick projects and get inspired with ideas from the book so you can make anything pop!
Comes with: 48-page book of instructions, 12 pop papers, custom glaze, foam brush, key chain, rhinestones, sequins, glitter, punch-out projects (3 bowls, 1 bookmark, 1 owl, 1 tray, 1 frame, 6 mini square art boards)
Click here for more