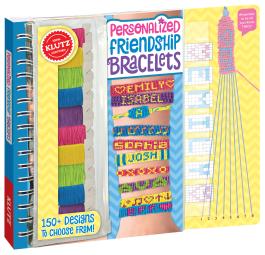 Scholastic Inc. / Scholastic Canada Ltd.
ISBN: 9780545858564
Ages 10 & Up
Personalized Friendship Bracelets
Say it with a bracelet!
Friendship bracelet fanatics, this craft has got your name on it... literally!
Make custom name friendship bracelets and more with easy instructions and a built-in bracelet-making board (so you can craft on the go). Choose from 5 colours and more than 100 patterns to make bold bracelets for you and your BFFs. And when you've mastered those, learn how to design your own!
Get on a first-name basis with Personalized Friendship Bracelets, then heart, hashtag, and happy-face your way onto the wrists of all your pals.
Comes with: 58-page book, 50 yards of embroidery floss in 5 colours, design tiles, bracelet-making board
Click here for more