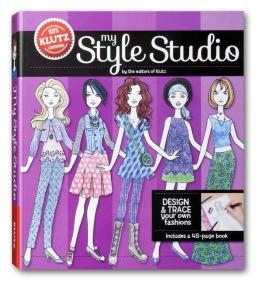 Scholastic Inc. / Scholastic Canada Ltd.
ISBN: 9780545650533
Ages 8 & Up
My Style Studio
A Klutz classic gets a fashionable makeover!
Whenever we need a little boost, we love looking though some of the fabulous fashion drawings sent to us by fans of My Style Studio. Since the book's debut in 2006, fashionistas of all ages have found it easy to produce perfectly proportioned outfits and figures. Fashion design is not just for artists anymore!
Super-clear line art on mix-and-match vinyl clings make it easy to assemble a bazillion different outfits. Young designers use the provided paper and pencil to trace their looks, adding their own stylish touches freehand. Coloured pencils and textured pattern plates make adding colour and pattern a cinch. And a handy box provides convenient storage for art supplies and finished drawings alike.
New for this season, My Style Studio has been tailored to fit our favourite boxy format: easy to shelve, simple to stack, a snap to wrap. And the custom work surface is now entirely portable, making it the ideal art table for designers on the go. Because you never know where fashion genius may strike.
Comes with: 4 pages of line art on plastic clings, line art of a figure on clear plastic, 3 pattern plates with 4 textures each, 8 coloured pencils, 50 sheets punched tracing paper, sketching pencil, pencil sharpener, eraser, fine-tip pen.
Click here for more