My Fabulous Look Book: Fashion Drawing Made Easy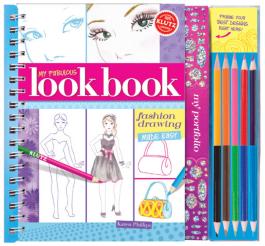 Klutz / Scholastic Canada Ltd.
ISBN: 9780545346207
Ages 8 & Up
My Fabulous Look Book: Fashion Drawing Made Easy
The simple way to draw simply gorgeous pictures!
If you're a girl, you probably already know how fun it is to draw glamorous clothing, hair, and makeup looks. But you also probably know how tricky it is to get your drawings to come out the way you imagine them. With My Fabulous Look Book, young designers can create beautiful faces and fashions — no drawing skills required.
The secret is the art-starters — more than 70 pages of lightly printed faces, figures, and other fashionable shapes. Use the included 10 pencil colours to draw right over the art starters in your own unique style. The result? Perfectly proportioned drawings, every time.
The book includes handy tips for using the pencils and simple step-by-step how-tos for drawing tricky things like shiny hair and sparkling eyes. Galleries of style ideas for makeup, hair, and fashions provide plenty of what-to-draw inspiration. A selection of glittery stickers makes it easy to add jewelry and other bling to your drawings. And when you're done, you can display your best work in the Look Book, a set of beautifully decorated, bound-in frames that are perfectly sized to showcase your gorgeous creations. Fabulous!
Click here for more