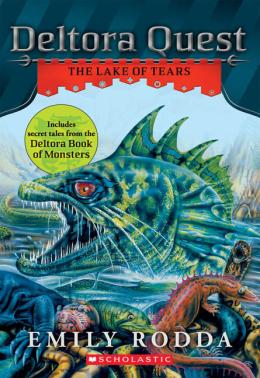 Deltora Quest #2: The Lake of Tears
Scholastic Inc | ISBN 9780545460217 Paperback
160 Pages | 5.26" x 7.56" | Ages 8 to 12
The international bestselling series returns for a new generation with a fresh look and bonus content from the legends of Deltora!
On his sixteenth birthday, Lief and his companions must venture into the darkest and most terrible places in all of Deltora to find the seven magical gems stolen from the Belt of Deltora. When reunited in the Belt, these gems-an amethyst, a topaz, a diamond, a ruby, an opal, a lapis lazuli, and an emerald-will empower the heir to the throne of Deltora and free the people from the evil tyranny of the Shadow Lord.
Now joined by their unruly new companion Jasmine, Lief and Barda set off on a treacherous journey through the territory ruled by the monster sorceress Thaegan. But to recover the second gem, they must face the hideous guardian of the Lake of Tears!