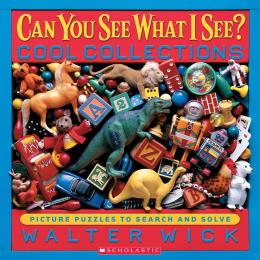 Can You See What I See? Cool Collections: Picture Puzzles to Search and Solve
Scholastic Inc | ISBN 9780439617727 Hardcover
40 Pages | 10.75" x 10.81" | Ages 4 to 8

A follow-up to Can You See What I See? (22 weeks on the New York Times bestseller list!), Cool Collections has fabulous photos and search-and-find fun!

Photographer Walter Wick has created his best photographs ever for this highly collectible book that features blocks, beads, buttons, toys, and more!

Readers are invited to search for fascinating objects in colorful compositions that reach a new level of aesthetic excellence! This beautiful book will be treasured by all!