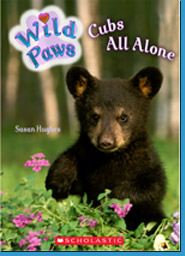 ISBN 0-439-96128-9
< Home
Cubs All Alone
The fifth book in the exciting Wild Paws series.
How will Max and Sarah help the orphaned cubs?
When Max and Sarah help rescue two orphaned bears, they immediately fall in love with the cuddly cubs. Then Abbie tells them that the bears can't stay at Wild Paws. But if they can't take care of the helpless cubs, what will happen to them?
Excerpt from Cubs All Alone
Abbie cleared her throat. "I just received a phone call from someone named Barton Crew. He says that a few days ago his neighbour shot and killed a black bear that was coming around his compost pile."
Max drew in her breath. She felt Sarah grip her hand.
"Mr. Crew is worried. He thinks it was a mother bear. There were two cubs, and he doesn't know what happened to them. He saw the mother's body being removed, but didn't see the cubs anywhere. He's hoping that we can go out and take a look."
Max said softly, "Oh the poor things. Abbie, of course we'll go and look for them, won't we?"
Abbie smiled kindly. "Yes, of course we will. That's why I was coming to find you girls. The cubs will need our help. Their mom will have taught them to eat a few wild things, like plant roots and maybe ants. But they're not ready to survive on these things alone. They usually need to nurse until the end of July or so. They'll be hungry after a few days without Mom. So let's get going! You girls can get our usual rescue equipment, but remember to bring two large carriers, not just one. We'll also need the grab pole and the nets, too. I'll be with you in a moment."
Max and Sarah jumped up from the steps and hurried to the utility shed. Together, they loaded up Abbie's car with a long, slender pole with a rope loop at one end, two nets, three pairs of heavy gloves, two blankets, two large animal carriers, three safety whistles and a first-aid kit.
Abbie closed the office door behind her. "I've got the directions," she said. "It's just a few minutes away."The team piled into the car, and headed down the stony driveway past the sign that read, Wild Paws and Claws Clinic and Rehabilitation Centre.
Max was quiet. She tried to imagine where two orphaned bear cubs might be hiding. What if they were wandering in the woods, sad and hungry? What if they were hurt? Worst of all, what if Max, Sarah and Abbie couldn't find them?