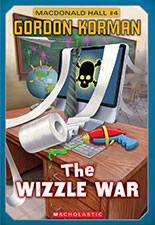 ISBN 978-1-4431-2495-9 PBK
ISBN 978-1-4431-2804-9 EBK
224 pages
5 ¼" x 7 5/8"

"You identify the enemy, and then you fight!"
—Bruno Walton
Macdonald Hall is under attack. Where once tradition and freedom of speech ruled the campus, now there is Mr. Wizzle.
That means a dress code — ties, even. Demerit points for just breathing the wrong way. Psychological tests for all students. Surprise dorm inspections. All in the name of progress.
Are the students of the Hall going to stand for it? Not on your life! Wizzle doesn't stand a chance against The Committee — a secret society of Macdonald Hall loyalists who meet out in the woods, late at night, to plot their revenge.
Whether it takes toilet-paper rolls, a touch of romance, or even an earthquake, it's unanimous: Wizzle must go!
Read an excerpt!